Kielce International Theatre Festival
The idea of ​​the festival is to create a space of multicultural dialogue through the presentation of varieties of contemporary theatre and dramaturgy of European countries. The festival is intended to be a platform for meetings of professionals and theatre lovers, and is guided by the mission of broadly defined integration of European culture and the theatre community. But most importantly, it gives viewers of the city and region the opportunity to learn about important performances.

MEDIA PARTNERS AND FESTIVAL PARTNERS
Quality mark EFFE (Europe for Festivals, Festivals for Europe).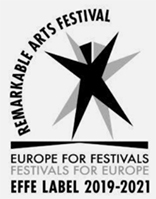 Co-financed by the Ministry of Culture and National Heritage.
Co-financed by the Marshal's Office of the Świętokrzyskie Voivodeship.